No. It's a lot more than that. In fact, Reflexology treatments at Melbourne Natural Wellness also involve the ears and hands. Reflexology is an ancient holistic healing art dating back to Egyptian times. It is based on the principle that all areas and organs of your body are mapped onto your feet. Congestion or tension in a part of the foot may "mirror" congestion or tension in the corresponding body part. The feet contain over 7000 nerve endings and over one quarter of the body's bones. By applying a series of touch and pressure techniques to your feet, a reflexologist can help you regain a balanced state. Reflexology promotes the release of blocked energy and allows the body to detoxify, and relax – achieving balance.
Hand Reflexology uses a different technique to foot Reflexology due to the fact that the hands are very flexible and the pressure points are located deeper under the skin. Finally, ear Reflexology, while less well known, also involves the manipulation of pressure points on the ear that correspond with specific areas of the body.
Wide ranging benefits
Reflexology sessions can also help alleviate stress and illness symptoms such as headaches, muscle pain, anxiety and digestive issues such as bloating. These symptoms can be immediately resolved. Any changes to sleep patterns can also be normalized quite quickly through reflexology. During a treatment you experience deep relaxation and feelings of peace and calm.
Reflexology points on the feet can also help: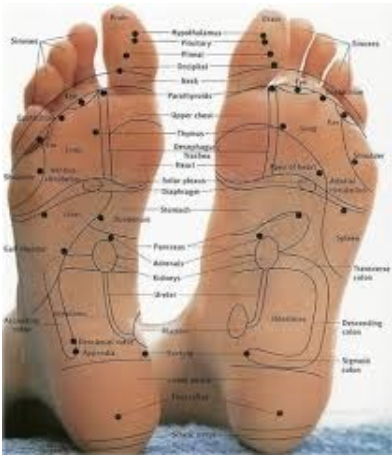 Reduce pain

Helps eliminate toxins

Enhance relaxation

Encourage restful sleep

Reduce psychological symptoms, such as anxiety and depression

Reduce headaches and migraines

The profound relaxation found in a reflexology session is a great stress reliever – and it has been well established that negative stress is a precursor to most disease.
Watch this quick video -Reflexology in action here – Caution this contains relaxing images and may cause you to feel good.
What does Reflexology involve?


Because Reflexology theory states that points on the hands, feet and ears correspond to specific organs, bones and body systems, a practitioner will access these points during a Reflexology session to affect organs and systems throughout the body.

They may perform a general session or, if you are experiencing a particular problem, they may focus on specific areas of the feet, hands or ears.


What to expect from a Reflexology Session


First, the therapist gently cleanses your feet. The treatment then begins with the application of specific pressure to each part of the foot, ears and hands. The treatment is very gentle and should not cause discomfort. At the end of the treatment your therapist will identify areas of concern they found in your body, and a tailored treatment plan will then be put in place for you.
They will then gently cleanse your feet and begin treatment with the application of specific pressure to different parts of the feet, ears and hands. The treatment is very gentle and should not cause discomfort. In fact, most people experience deep relaxation and feelings of peace and calm during and after a Reflexology session.

At the end of the treatment your Reflexologist will identify the areas of concern that they have found in your body and a tailored treatment plan will be created.


Book Now
Why come to Melbourne Natural Wellness?


At Melbourne Natural Wellness Clinic, we treat you as a member of our family. We listen to what you have to say, we support you in every way we can, and we help you discover your best 'wellness self'. If you know what type of treatment you want or need, you can make an appointment with us at any time and begin treatment. We'll work with you to find the underlying cause of your problem and set about relieving the symptoms and restoring your body's natural balance.
Alternatively, if you're uncertain about what kind of therapy is best for you, we're also happy to help by providing you with a no-obligation, free consultation to discuss your symptoms and to work out which of our services are likely to benefit you the most.
For more than a decade, our dedicated team of wellness experts have been helping over 10,000 people each year to reach and maintain their physical and emotional wellbeing goals. So why not join them?
If you live or work in the CBD, we're conveniently located at Level 4/178 Collins Street. You can also get in touch by filling in our online contact form or calling us on 03 9662 1311. We're your sanctuary in the city and we're here to help you become the person you've always wanted to be, so contact us today and begin your journey towards wellness with Melbourne Natural Wellness Clinic.
---
Body Work and Relaxation
Know what you need and ready to make an appointment?
Book an appointment now
Not sure what you need or where to start?
We offer you a no obligation free consultation over the phone or in person where you can talk to one of our coaches and receive a complimentary health and wellness assessment, free second opinion or the opportunity to discuss your symptoms in more detail and receive a recommendation on which modality is best for you. Call us at 9662131